Sly Sirs ran for three years in the La Porte High School Hi-Times student paper. My time drawing it was filled with endless frustration and growing experiences, and I never was very happy with it. With only one strip per issue (and one issue every month or so), Sly Sirs gave me only 25 strips to do untold millions of things I had wanted to do with it. No time for character development. No time for drawn-out plots and story arcs. No time for being funny.

It kept a small group of regular characters; there wasn't much time for anything else. There was Danny, the central normal moral leader. He didn't do much of anything 'cept be a straight man. Sal, his girlfriend, was just sorta there and sassy. Joe was a jerk and ladies man. A few other people made cameos here and there. The Mutant Frosted Honey Bun showed up once or twice, and Professor Doc fulfilled the teacher role whenever I needed one. But all in all, this was a very sad, short strip.

I'm a bit more satisfied with Roomies, my current online comic strip, which takes Joe and Danny through college. It's much better than this, anyway...
Sly Sirs Revisited
All new comics from the Sly-Sirs era, starring Danny, Joe, and Sal as we flash to the past for a short-but-sweet return to the good ol' days.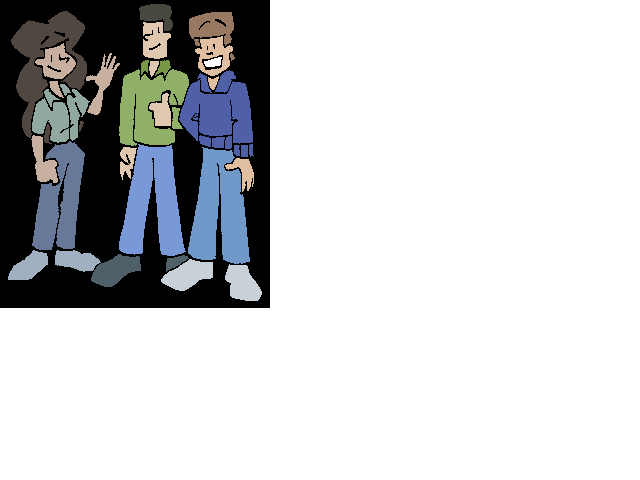 Frosted Honey Bun -- The first strip of my second year on the newspaper staff, this one introduces the Giant Mutant Frosted Honey Bun and general craziness.

Sal's Spiffy Tricks -- We needed filler. So I drew this.

Prom -- Once again proving I have no pride whatsoever...

Patriotic -- First strip of my third and final year on the newspaper.

"What's going on?" -- Jon Huff, fellow cartoonist and Chief Editor of the paper, drew Sly Sirs one month as a gag. Kinda nifty...

Captain Enviro-Mental -- The next month I started from where Jon left off and burst into a spontaneous rip on Captain Planet. I hate Captain Planet. Can you tell?

Jericho -- As Jon got to draw Sly Sirs for one installment, I got to do his strip for a month as well. "Jericho" was a science-fiction mystery strip that Jon did maybe once or twice, and I tried to follow the same framework...but in my style.

Hormones -- Filler for the sports page.

Cloning -- Joe being Joe.

Labels -- A small graphic to accompany someone's editorial on stereotyping.

Pathetic -- Girls wanting to go out with vain, stupid, egotistical meat-heads instead of little dorks like me is a fact of life.